The annual feast of St Lawrence Basilica, Attur , which will be celebrated annually after 20 days of new year will be celebrated for five days with masses and prayers from January 27 , 28, 29, 30 and January 31, 2019.
'Be holy, because I am holy.'" 1 Peter 1:16
Attur Church Karkala Annual Feast Mass Timings 2019
Time / Date
Jan 27
(Sun)
Jan 28
(Mon)
Jan 29
(Tue)
Jan 30
(Wed)
Jan 31
(Thu)
07:00AM
Konkani
Konkani
07:30AM
Konkani
Konkani
08:00AM
Konkani
08:30AM
Konkani

Kannada

09:00AM
Konkani
10:00AM
Konkani
10:30AM
Konkani
Kannada
Konkani
Konkani
12:00PM
Konkani
Konkani
12:30PM
Konkani
Konkani
01:00PM
Kannada
01:30PM
Kannada
02:00PM
Konkani
02:30PM
Konkani
03:00PM
Konkani
Konkani
03:30PM
Konkani

Kannada

04:00PM
Konkani
04:30PM
Konkani
05:00PM
Konkani
Konkani
05:30PM
Kannada
06:00PM

Kannada

Kannada

06:30PM

Kannada

07:00PM
Konkani
Konkani
07:30PM
Konkani
08:00PM
Konkani
Konkani
08:30PM
Konkani

Kannada

09:00PM
Konkani
09:30PM

Kannada

Konkani
10:00PM
Konkani
10:30PM
11:00PM
Konkani
11:30PM
Konkani
When is the St Lawrence Church Attur Novena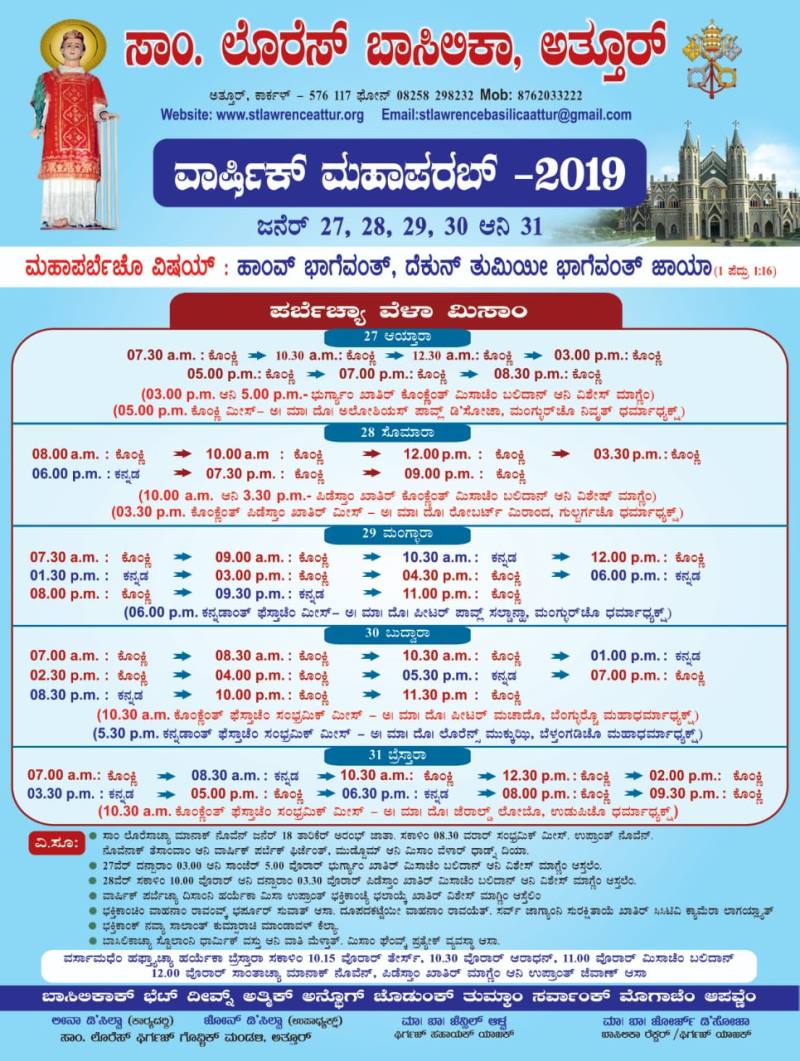 18th January 2019 St Lawrence Church Attur novena will be held. Special masses will be offered for children on January 27 2019.Bishop Emeritus Dr Aloysius Paul D' Souza will be the main celebrant.
Special Mass at atthur Feast 2019
Masses for the sick and special prayers will be offered on January 28 by Dr Robert Miranda, bishop of Gulbarga.
Mass on January 29 will be offered by bishop of Mangaluru Dr Peter Paul Saldanha.Dr Lawrence Mukunzi, bishop of Belthangady will be the chief celebrant of mass on January 30.
The mass on January 31 will be offered by Dr Gerald Isaac Lobo, bishop of Udupi diocese. Prayers for the sick will also be held after each mass during the days of the feast.
Facilities at Feast
Ample parking facilities are provided and CCTVs are installed for security. Confessions are arranged for the devotees in the new hall.
Looking for Other Information Contact Us here
Like what you read?
From a quick like to a social share, comment below to show how much you enjoyed this story and your view on the article.
Like our Facebook Page , Twitter for the latest events in the coastal region.